Spotlight on the Visually Impaired with New UCF Student Art Exhibit | Life
Visitors to the John C. Hitt Library were greeted with a series of artworks, including two pieces depicting those who see in color and those who cannot see as part of the Open Light Project.
But these pieces aren't just an art exhibit. The project's founder, Homero Daniel Rodriguez Jr., said it was something of a mission statement.
The Open Light Project is a collective of UCF engineering students that aims to support and educate the visually impaired community. Rodriguez Jr., a senior electrical engineering major, said the goal of the exhibit was to inspire students to take an interest in disability research. The exhibit, which features artists from UCF, opened Feb. 1 and will run through Feb. 27.
Artists from UCF's Hispanic Book Club all the way to Colombia and Puerto Rico are featured, such as artists Yaneth Monsalve and Tania Michelle Torres, respectively. Rodriguez said each artist came together for the same cause.
"We try to do [our community] fairer, more accessible, more inclusive," Rodriguez said.
Rodriguez's installation, "Not everyone sees the same thing", is an effort to show this inclusiveness. It can not only be seen but also touched. A QR code on the part description gives information about the part in Braille.
Rodriguez's relatives were present at the exhibition. His friend Pablo Atencio, his mother Luz, and his father Homero Sr. were each on hand to help and see through the exhibit's final completion.
"There are many colors and perspectives in nature, [but] there are people who cannot [see] that," Atencio said of the art and its meaning, translated by Rodriguez Jr.
The exhibition does not only include traditional art. Rodriguez Jr. also installed a prototype display of simple machines and electrical circuits designed to educate people with and without visual impairments alike.
"If you are a student, you can see the physical movement, the physical sculpture. Also, if you can't see, you can just walk up and touch the object," Rodriguez Jr. said.
Rodriguez Sr. said he believes in the larger societal implications of the Open Light Society and the impact it can have on the world today.
"It's very important that people serve today's society…and serve people," Rodriguez Sr. said. "Love people. Thank God for different talents and make those talents work with people."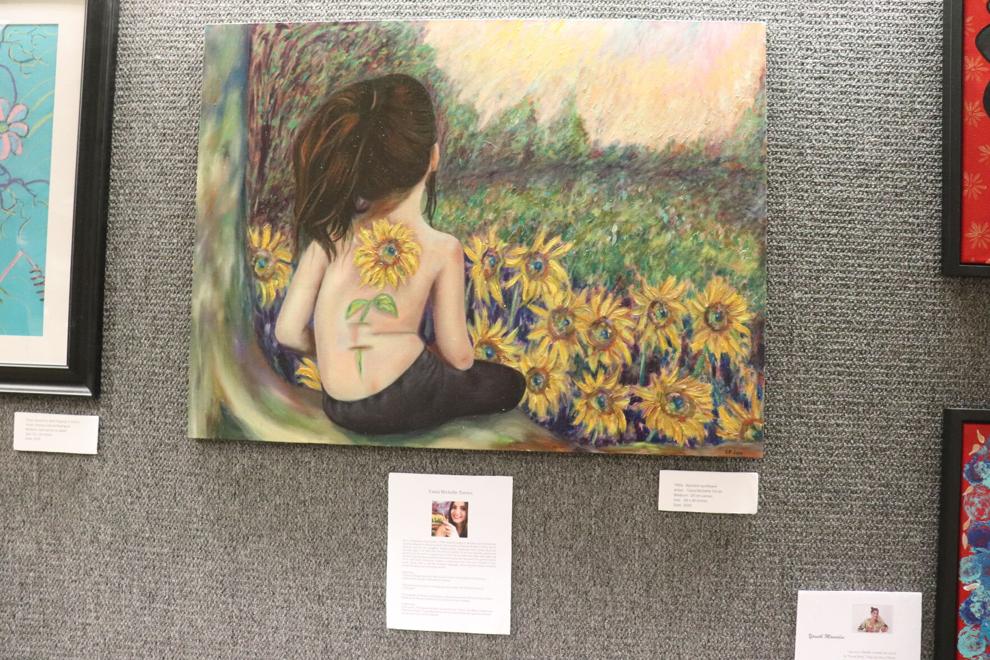 Luz Rodriguez spoke fondly of her son's efforts to use artwork for the good of people. Rodriguez Jr. translated that his mother is very happy to see him using his talents to help the community and the university.
"It has always been his strong point to put all his talents to use thanks to God, who has rewarded him with many talents and with these desires to help others," Luz Rodriguez said in Spanish.
Rodriguez Jr. said protests like these are just the beginning.
"We want to go further," he said. "By doing these kinds of projects, we want to welcome visually impaired students into our community and make them more aware and interested. »