Fraunhofer IAF inaugurates new MOCVD research and laboratory buildings
News: Microelectronics
July 1, 2022
On June 30, the Fraunhofer Institute for Applied Solid-State Physics IAF in Freiburg, Germany officially opened two new buildings with a ribbon-cutting ceremony by Executive Director Prof. Rüdiger Quay, Mayor of Freiburg for Prof. construction Martin Haag, and managing director of Freiburg Wirtschaft Touristik Messe GmbH & Co KG (FWTM) Hanna Böhme.
In addition to representatives from various Fraunhofer institutions, guests included Gabriele Rolland from the state parliament of Baden-Württemberg, Professors Stefan Glunz and Frank Balle from the Institute for Sustainable Technical Systems (INATECH) and Professors Jürgen Wöllenstein, Matthias Kuhl and Stefan Rupitsch from the Institute for Microsystems Technology (IMTEK) at the University of Fribourg, as well as the building architects Ann-Kathrin Goerke and Matthias Solbach.
Pictured: Fraunhofer IAF's new research buildings were officially opened on June 30 with a ribbon-cutting ceremony by Executive Director Professor Rüdiger Quay, Mayor of Freiburg for Construction Professor Martin Haag, and Managing Director of the Freiburg Wirtschaft Touristik Messe (FWTM) Hanna Böhme.
Financial support from the German Federal Government, the State of Baden-Württemberg and the German Federal Ministry of Defense (BMVg) financed the construction of a new laboratory building as well as a new chemical vapor deposition hall (MOCVD), enabling Fraunhofer IAF to intensify its activities in optoelectronic metrology and quantum sensing as well as in materials science.
"The Application Laboratories for Quantum Sensing and Laser Spectroscopy significantly expand the possibilities for cooperation with partners from industry and research," notes Dr. Martin Walther, Head of Research Infrastructure.
"The new MOCVD hall has also allowed us to expand our epitaxy equipment fleet, to further increase the level of quality and reproducibility of materials, and at the same time to ensure a significantly more efficient operation," says the executive director, Professor Rüdiger Quay. "The buildings exceed the requirements of the Energieeinsparverordnung EnEV (Energy Saving Ordinance) and contain CO2-neutral construction elements. This is an important signal for our plan to achieve climate neutrality by 2030 together with the Fraunhofer-Gesellschaft.
Optimal research conditions and durable construction
The new laboratory building has a total of 22 laboratories over 900m2 of floor space, designed according to the dynamics of the building for the use of equipment very sensitive to vibrations. They comply with the vibration limit lines B and C of the so-called vibration criteria (VC) and are therefore suitable, for example, for the operation of microscopes with magnifications of up to 1000 times or lithography and inspection equipment with structure widths down to 3 µm and 1 µm, respectively. In the long term, this ensures the use of demanding measurement technology for ever smaller structures and enables intensive R&D of quantum sensors such as scanning probes, wide-field and laser threshold magnetometers as well as laser-based sensor technologies and innovative semiconductor lasers.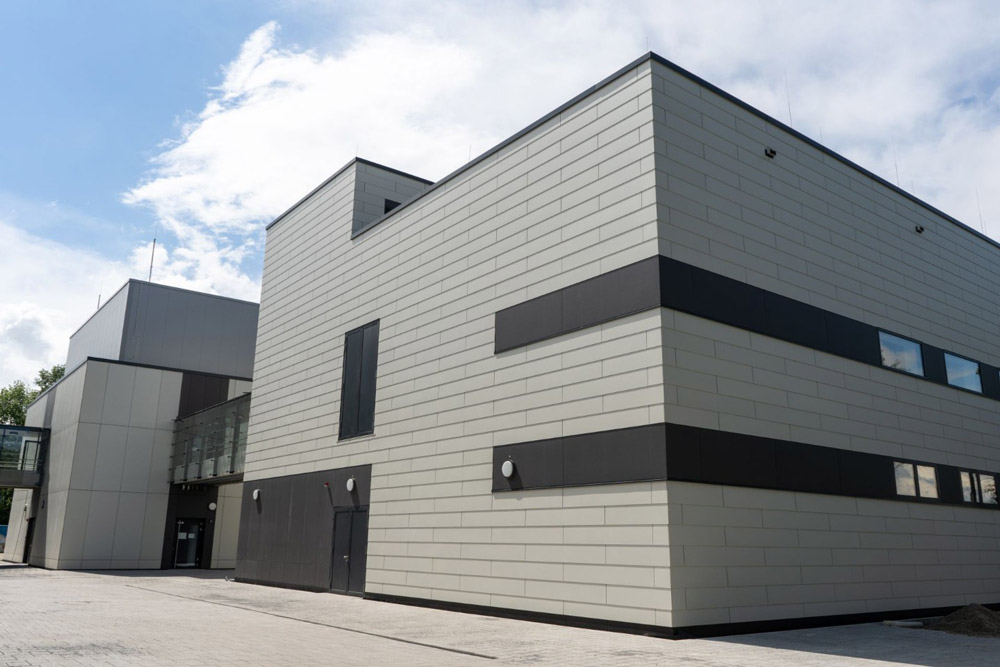 Photo: Fraunhofer IAF has expanded its research infrastructure for semiconductor technologies with a new MOCVD hall (front) and a new laboratory building (behind).
The newly built MOCVD hall offers space for five systems, which will allow Fraunhofer IAF to expand its epitaxy activities in wide bandgap semiconductors in particular. The four existing systems (moved from the clean room of the main building) have been joined by a new system specific to the deposition of aluminum gallium nitride (AlGaN) with high aluminum content. The new system reaches temperatures of up to 1400°C, which has a positive effect on the quality and homogeneity of the crystals. Benefits also result from equipping the hall, which has stand-alone regenerative treatment systems, enabling more energy-efficient and sustainable manufacturing processes.
At 388 kWh/(m2a) for the laboratory building and 245kWh/(m2a) for the MOCVD hall, the primary energy needs of the two new buildings are lower than the EnEV requirements for comparable buildings. In addition, the floor coverings installed in the two buildings are particularly respectful of the environment and will be recycled at the end of their functional life. Floor coverings made in Germany are made from natural raw materials and their entire production cycle is CO neutral2 footprint. In the MOCVD hall alone, 47t of CO2 were offset by the flooring.
Key words: IAF
Visit: www.iaf.fraunhofer.de/en.html